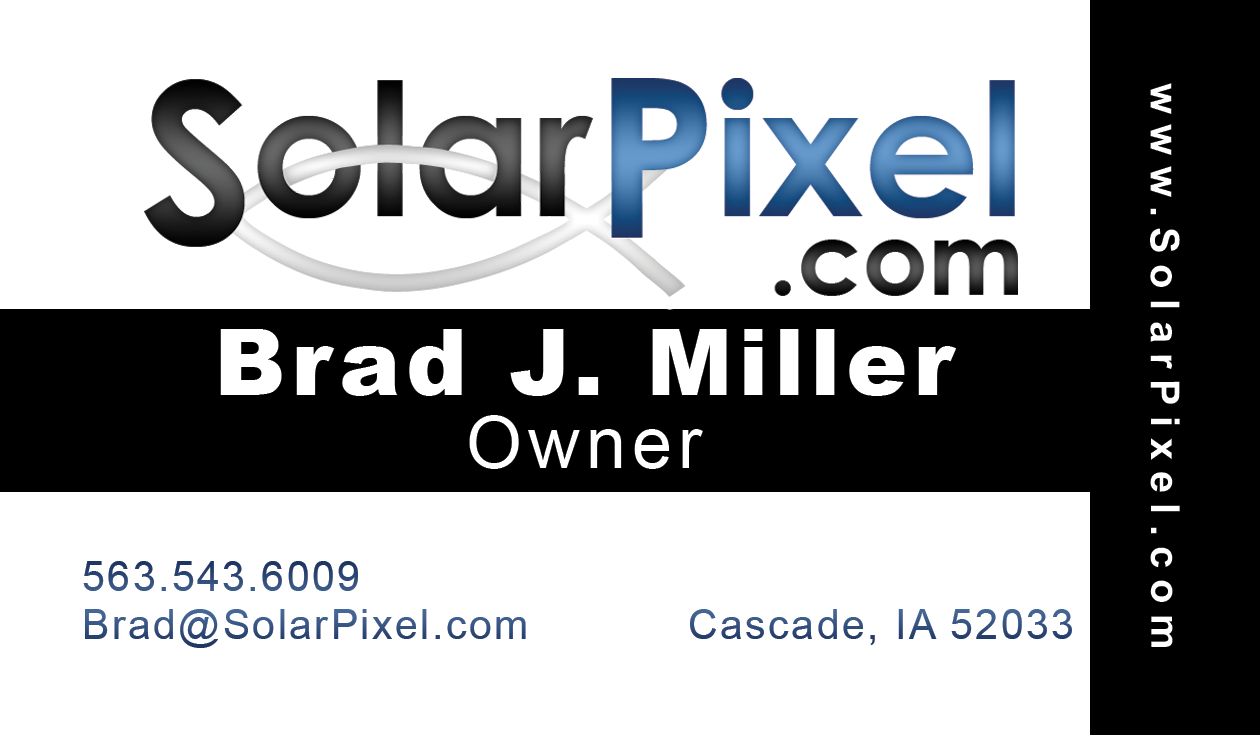 Contact Us Today!
sales@solarpixel.com
Mobile: 563.543.6009

Solar Pixel Business Theories
Striving for basic biblical themes. Here are some basic business principles that while they're very simple, they're not always upheld in business. We strive to meet these principles:
Reflect Christ in Your Business Practices
Be Accountable
Provide a Quality Product at a Fair Price
Honor Your Creditors
Treat Your Employees Fairly
Treat Your Customers Fairly
Business Theories - We want to be more than your web design company; we are developing various resources that your business or organization can use to deliver results far beyond what is expected. We've always been believers in forming trusting and lasting business relationships. We maintain a certain level of contact even after all your web-site needs have been meet. Our focus is to develop a system to assist you in attracting new visitors.
Solar Pixel Design & Development Theories
Web Design - Anyone can create a basic web design, but not all can do it in a way that is professional and responsive. It takes some skill to create a site with basic marketing appeal that utilizes flowing graphics, appealing colors, a responsive layout, and well organized information all while loading quickly on most standard web browsers, no matter what connection speed your visitor is using.
Web Based Applications - In this day and age it is necessary for web based applications to be secure, responsive, fast loading and standards compliant. Since several different types of computers and browsers are being used on the web, you don't want to limit your customer base to one specific type. For these reasons we utilize PHP, MySQL, Javascript, and CSS for our programming needs.
Mobile Apps - Since the smartphone revolution started in the late 2000's the world of mobile apps has exploded and continues to grow. This field is always changing and we harness the hybrid approach of making mobile apps so you have an amazing synthesis of web based technologies and native smartphone apps to create a product that ties all of your web presence together.
Graphic Design - It takes more than just a few hours of playing with Photoshop to really be able to convey an image graphically. We've been Photoshop users (as well as a few other graphics applications) since the late 90's and we're still learning and creating something new almost daily.